UPDATED 2-3-23
CHICAGO METRO CHORUS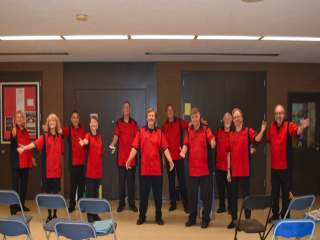 ---
Start out 2023 by exercising your voice and join us each Wednesday at 7:30 pm.
We meetup at Sokol Community Center 4855 N Elston Chicago (Lower Level)
We take the safety of our singers very seriously. To conform to CDC guidelines We meet in a well ventilated space, practice social distancing and highly recommend face masks .
Please use this RSVP link to reserve your spot To find out more about CHICAGO METRO CHORUS MEETUP GROUP
---
---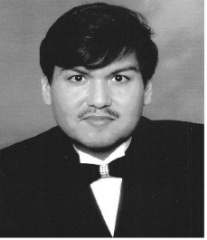 Luis A Galvez is a professional voice instructor at Old Town School of Music
and Director of Music at Mary, Mother of Divine Grace Parish.
---
---
---


Quartets available Feb 13 & 14!

---
Broadwa

y in the Park Public Performance
---
Joseph Schlesinger Memorial Benefit Concert Saturday Oct 9, 2021
The event was a wonderful tribute to a special and interesting man. Thank you Mike, Barry and the Northbrook Chapter, Clare, Bonnie, Martin and the Chicago Metro Chapter. Special Thanks to Holly for providing the video and Andre for providing the sound system.
---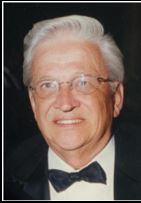 In Memorial Larry Kamick
We lost a beloved member of the Chicago Metro chorus. Larry Kamick passed away the afternoon of Friday June 25, 2021.Larry joined the chorus in 2002 and for the last 18-years has been harmonizing with with chorus. It was one of his favorite things to do. He served as chorus secretary until 2020.
Your $ponsorship will help continue the mission of providing harmony and song in the greater Chicago Metro area.
The Chicago Metro chapter of the Barbershop Harmony Society, a 501(c)3 non-profit educational organization.
---
In Memorial
Phil Schwimmer March 29,1932 to Feburary 2,2021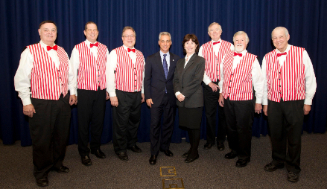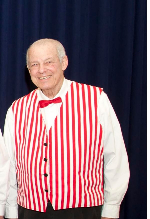 We will miss Phil. A good baritone, a fun person to sing with and be around.
Phil was part of an event to celebrate the 75th anniversary of the Barbershop Harmony Society at cith hall for the Mayor and Alderman, The event was covered by WBBM News Radio and interviewed Phil.. Check out the article online and listen to the interview.
________________________________________________________________________________________________________
Virtual A Cappella Quartet Contest
CHICAGO METRO AND COMPASS GET PRESS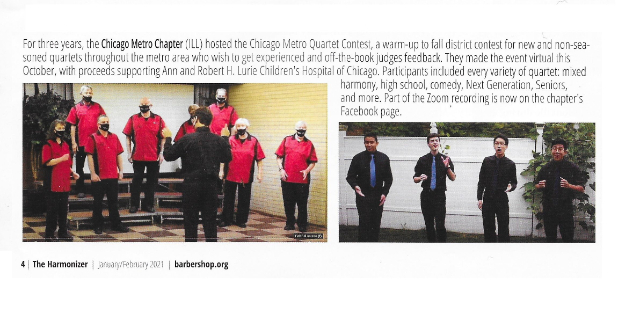 PHOTOS FROM THE HARMONIZER MAGAZINE JAN/FEB 2021 EDITION
2020 Virtual A Cappella Quartet Contest was held on zoom.com and origibnally broadcast on Oct 3. .Check out the video of the first half of the prrgram The Audience Round.
OUR JUDGES CHAMPION ONSET
Web Site of the A Cappella Quartet Contest
---
CHAPTER MEMBERSHIP
---
LISTEN to Chicago Metro Chorus sing the National Anthem.

WATCH Chicago Metro Chorus at a public performance.

LIKE US ON FACEBOOK.COM
---
Click here for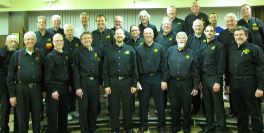 ---
THANK YOU FOR VISITING THE HOME PAGE OF CHICAGO METRO CHORUS
Have a Harmonious Day.