CHICAGO METRO CHORUS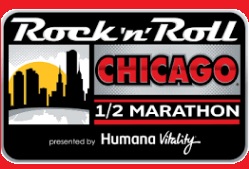 On July 16, 2017 and for the second year in a row the Chicago Metro Chorus performed along the route of the 9th annual Rock N Roll Half Marathon. This 13.1 mile race draws over 17,000 runners from around the country.
CHICAGO METRO QUARTETS
Chicago Retro Quartet helps a local Barbershop celebrate their 2 year annversary and raise funds for Chicago Public Schools.
Check out reviews from past clients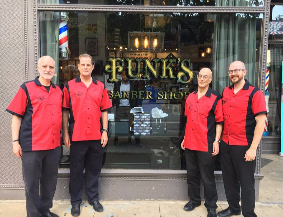 Watch this event covered on WGN-TV.
https://www.facebook.com/aguerrero62/videos/10211619543758366/
CHICAGO METRO CHORUS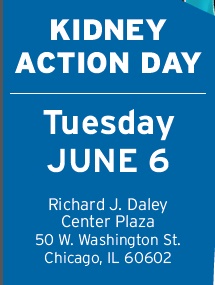 On June 6, 2017 a contingency of 8 chorus members volunteered at a downtown Chicago awareness event on Kidney health. In return each volunteer got a free lunch and an opportunity to provide awareness of Barbershop Harmony with a booth where we displayed brochures and business cards. In both quartet and chorus alignment we performed several songs and got the audience to join in with Take Me Out to the Ball Game.
CHICAGO METRO QUARTETS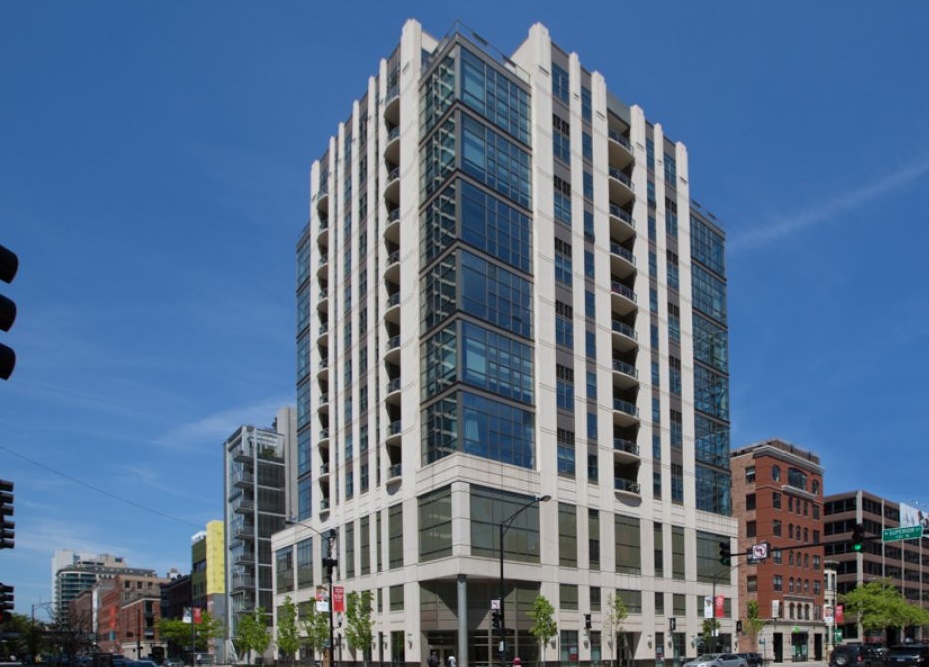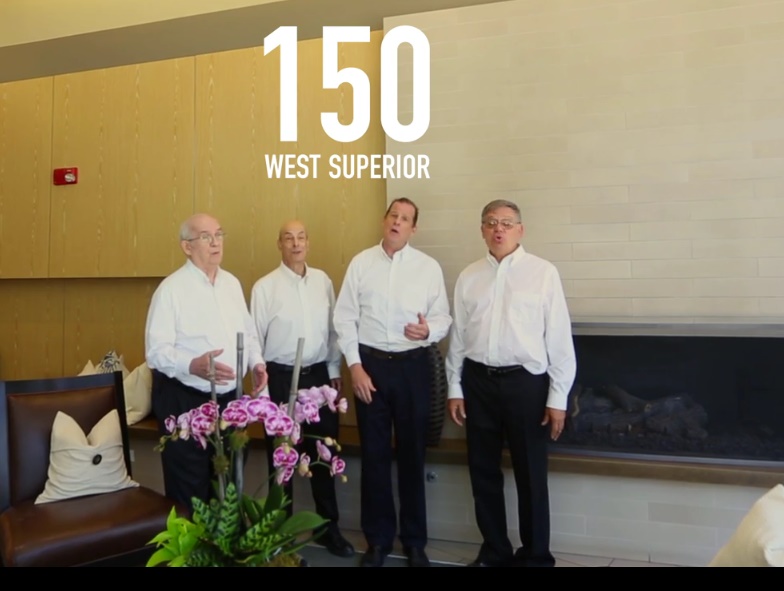 A combintion of two Chicago Metro quartets helps local realtor a present prime condo for sale in trendy River North. The client and John Q re-worded 4 lines of Sweet Roses of Morn to provide a special touch to the video she and her son have produced. The client Candace Kuzmarski believes the ownership of real estate is one of the best investments individuals can have. She also believes in the power of a cappella music in the barbershop style. Candace hired to John Q, Joseph S, Frank F, and Ernie C to perform in the lobby of 150 W Superior on May 18, 2017
Watch the video Luxuary as a New Address
---
Lane Tech Student's 'Promposal' Enlists Chicago Retro Quartet
The proposal took place on April 17th in the middle of the school's memorial garden.
She said yes.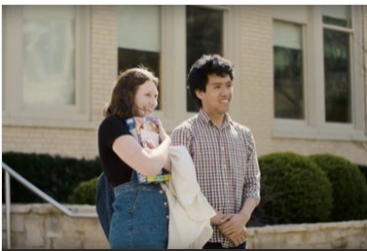 See the full article at dnainfo.com Chicago Arts & Entertainment.
---
Valentines Day 2017
It was a busy Valentine's Day for Chicago Metro quartets sharing the love with Singing Valentines!
Here's Vocal Zone, with Art Dusenbury standing in on bass,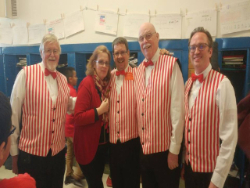 Chicago Retro delivers love songs to the Great Lakes Federal Credit Union.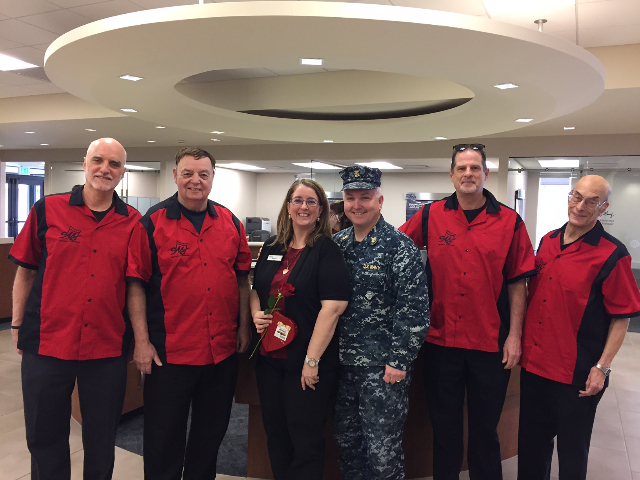 Click here to see and hear them in action
---
CHICAGO METRO CHORUS


At the end of the 2016 the chorus provided a cappella music for a very enthusatic audiance at Search Inc. Wearing Santa hats the chorus presented several classic holiday carols in followed by songs from the golden era of music. Read our review from one of the Search Inc staff members.
Reviewer: Jennifer Gledhill
Event Date: December 30th, 2016
Services Provided: Barbershop Chorus
Rating: 5 out of 5
Several reports from our holiday program confirmed that this group was a highlight of our holiday program. And our audience of adults with special needs can be a challenging audience sometimes, but this group handled the event like the pros they are. I'd have them back in a minute.
---
Fall Show 2016


Chicago Metro stands proud at the 2016 Fall Into Harmony Show looking dapper in their New Uniforms
Watch the Chicago Retro Quartet at Fall Into Harmony 2016
---
A Cappella Harmony and Fellowship of Men




Rehearsals: Every Wednesday 7:30pm

4855 N Elston Ave Lower Level
Sokol Community Center, Chicago, IL 60630


Do you sing? Do You want to sing better?




Do you want to learn how to harmonize??


Come Join Us!

June 2016
---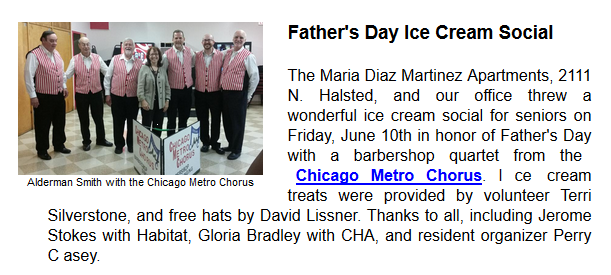 CHICAGO METRO QUARTETS
2016 VALENTINE'S WEEKEND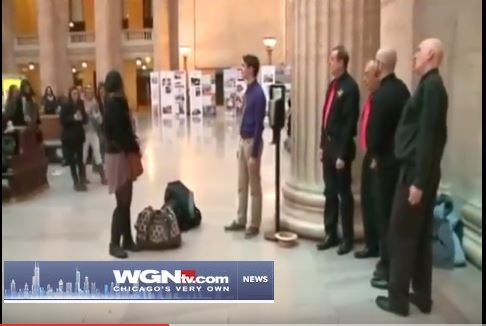 Watch
The Chicago Retro quartet was featured on the WGN TV News.
https://www.youtube.com/watch?v=eytSFDr9u2Q
The Chicago Retro quartet on NBC Chicago News
---
Vocal Zone delivers a Singing Valentine to a Grammy Award winner.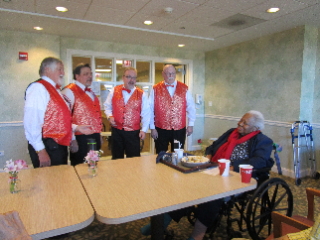 Ella Jenkins is often referred to as the First Lady of Children's Music and is a 2004 Grammy Winner! The native Chicagoan released her first album of children's songs in 1957. Since that time, during the course of a career that includes 60 albums, she paved the way for generations of new musicians who interact with young audiences by popularizing her "call and response" technique to engage kids.Time to sing the Barbershop classic call and response song "Sweet Adline." ?

---
Please feel free to


Click here to listen to Metro Quartet perform the National Anthem
Click here to listen to Metro Chorus perform the National Anthem
Visit our Gigsalad listing for more information about hiring the chorus
---
CHICAGO METRO CHORUS' DIRECTOR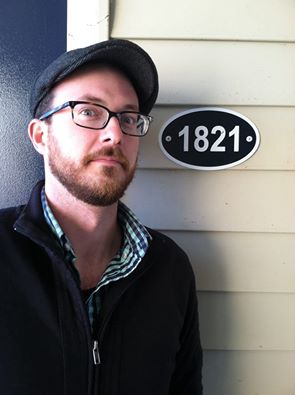 The Director of Chicago Metro is Brian A.Cromer
.
Brian is a natural educator and leads Chicago Metro through insightful direction with a great deal of fun and humor that allows our singers to look good, sound good, and FEEL good about singing. Peeking in on a rehearsal, you would probably see lots of smiles and laughter when Brian is up front.

---
FALL INTO HARMONY CONCERT HELD ON OCTOBER 17, 2015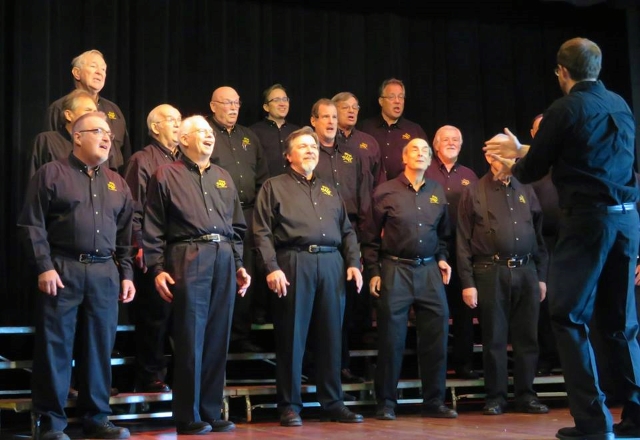 Click here to listen to the Chicago Metro Chorus performing at the Fall Into Harmony A Cappella Concert on October 17, 2015
---
Chicago Metro's quartet Fermata D Aria
Appeared on Fox6 Now TV in Milwaukee Wakeup news show. They sang the for the first time The Johnsonville Sausage Ballad of Bratsgiving in the barbershop style.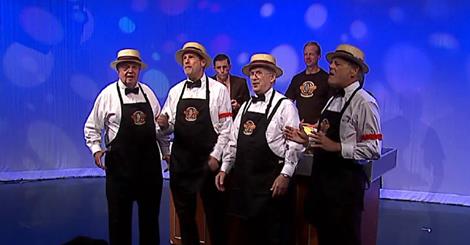 ---
CHICAGO METRO CHORUS PERFORMING AT CITY HALL
April 13, 2013 in honor of the 75th Anniversary of the Barbershop Harmony Society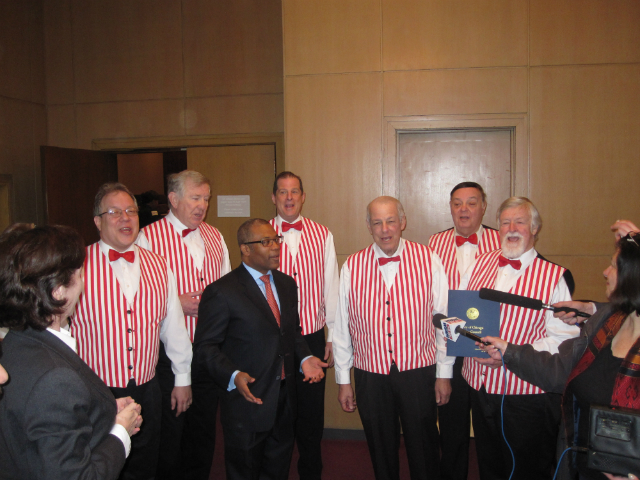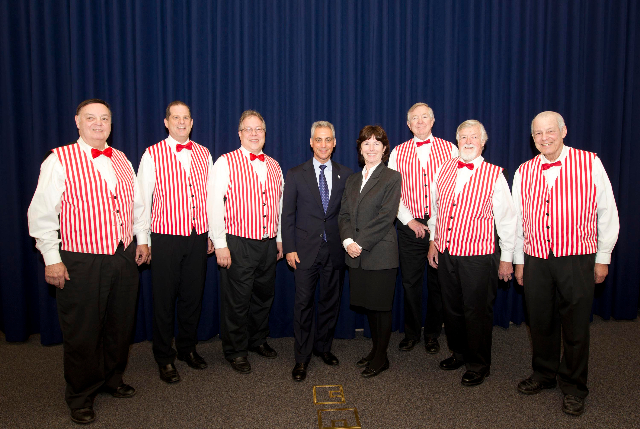 Listen to the WBBM fadio coverage of that event.
http://chicago.cbslocal.com/2013/04/10/chicago-celebrates-barbershop-harmony-we
---
THANK YOU FOR VISITING THE HOME PAGE OF CHICAGO METRO CHORUS
Have a Harmonious Day.