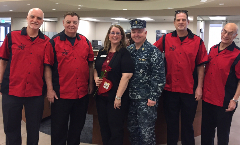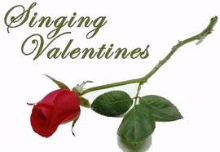 ORDER NOW
More than 48 hours in advance .
Orders Less than 48 hours in advance
Call: 312-493-0055 or
E-mail: info@chicagometrochorus.com
Deliveries available February 13th and 14th
Delivery time between 8:00 am to 6:00 pm starting at 50*
Virtual Singing Valentine $25 ( Place order by Feb 13 )
Send your sweetheart a Singing Valentine performeed by a barbershop quartet from the Chicago Metro Chorus!
Package includes:Two love songs a personal Valentines Day card & red rose.
Songs include:
Traditional Barbershop Love Songs
Let Me Call You Sweetheart, and Heart of My Heart (Story of the Rose)
More Contempory Love Songs
Can You Feel the Love Tonight and Love Me Tender
*Additional charges for delivery window of 2 hours or less, delivery locations 15 miles or more from the 60630 zipcode, and delivery locations requiring paid parking..
All major credit cards accepted.
Plus, I like that our non-profit chorus and quartets support vocal music education
( It's not romantic so we don't mention it much.)