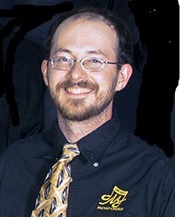 Chicago Metro Chorus Directed by Brian Cromer
Brian is eager to start a new era in the chapter's history.
Brian sought out a barbershop chorus when he moved to Chicago in 2010 from New Jersey. He has spent the majority of that time with the Chicago Metro Chorus both singing and directing. Brian graduated with honors from Rowan University (Glassboro, NJ) with a BM in vocal music education and a BA in subject matter education. He has also attended Harmony University for director's college and became a certified AHSOW member during that time. He also loves to attend Barbershop Pioneer events when possible.
Naturally, Brian is a K-5 music teacher lending his talents to South Berwyn School District 100 and also is the music director of a small church in Bolingbrook. His most recent endeavor besides directing the Chicago Metro Chorus is singing Bass in the professional choir "Common Pulse."
Brian is a natural educator and leads Chicago Metro through insightful direction with a great deal of fun and humor that allows our singers to look good, sound good, and FEEL good about singing. Peeking in on a rehearsal, you would probably see lots of smiles and laughter when Brian is up front.